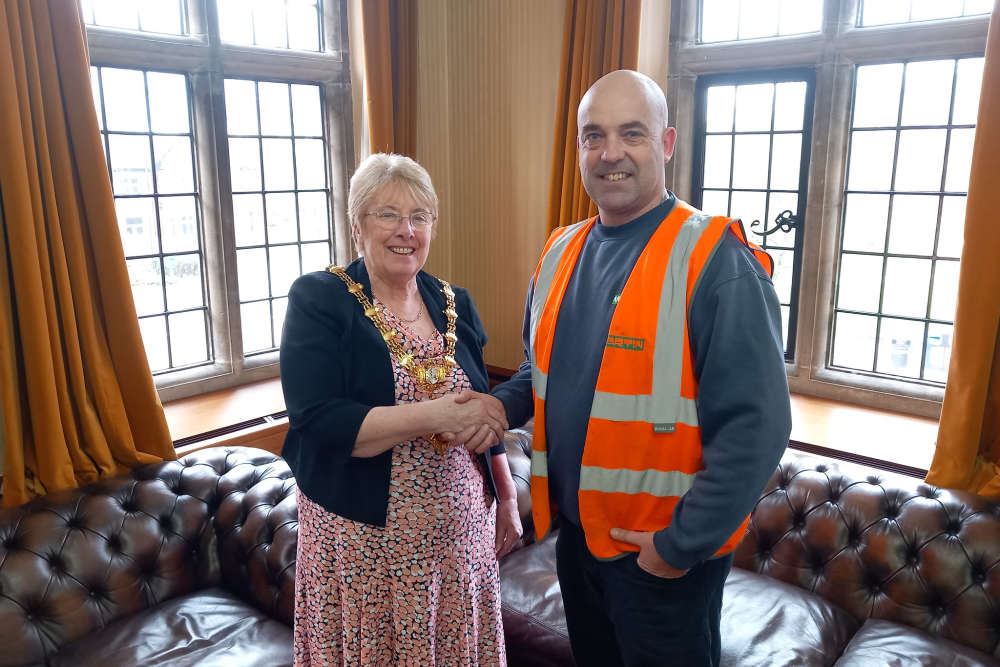 Generous staff from Stourbridge Household Waste Recycling Centre have donated £1,000 to the Mayor of Dudley's charities.
The borough's first citizen, Councillor Sue Greenaway, welcomed supervisor Mick Handley from the site's operators H W Martin Ltd to the parlour to thank the team for their donations.
Macmillan Cancer Support, Santa's Black Country Toy Appeal, and Tough Enough to Care have each received a third of the total money collected.
The funds were raised over the past two years by the re-use shop based at the recycling centre, which receives donations from residents for repurposing and recycling items rather than disposing of them at the facility. Councillor Sue Greenaway, the Mayor of Dudley, said:
"I'm very grateful to the team at the Household Waste Recycling Centre for this donation, which will be split between three wonderful causes.

"The re-use shop at the centre does great work to recover items for resale that were about to be thrown away, helping people on lower incomes to afford the goods they need."

Proceeds from the shop are reinvested into the operation of the centre, with £500 of all sale monies given to charity every year.
For more information on the Mayor's charities, visit mayorofdudley.org.uk/charities.