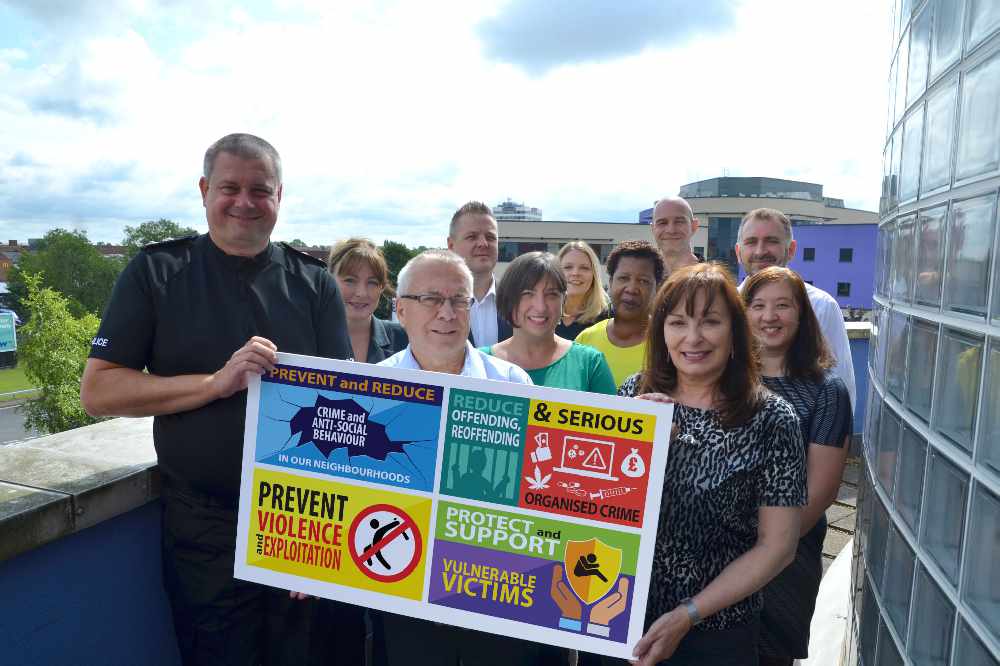 (L-R) Chief Superintendent Richard Youds, Councillor Peter Allen and Councillor Maria Crompton with representatives from across Safer Sandwell Partnership organisations.
The new team leading Sandwell's partnership efforts to tackle crime and anti-social behaviour has pledged to do everything it can to keep people safe and support victims.
The Safer Sandwell Partnership brings together the council, police, fire service, health, probation and many others to tackle crime and improve community safety. This summer, Sandwell Police commander Chief Superintendent Richard Youds has become the new chair of the Safer Sandwell Partnership Local Police and Crime Board.
Councillor Maria Crompton, who became Sandwell Council's cabinet member for safer communities in May, has also joined the board and the council's director of housing communities, Alan Caddick, is the board's vice chair. Chief Superintendent Youds said:
"We recognise there's already some great work taking place in Sandwell that's making a huge difference to people's lives. However, we know we always need to keep improving the way we work together across different organisations, especially in response to the changing nature and threat of modern crime.
"The victims of these crimes are often the most vulnerable people in our community. We also work very closely with the West Midlands Police and Crime Commissioner, West Midlands Community Safety Partnership, local community and voluntary organisations and councillors to set our priorities."
The board has set four key priorities for 2019-21, which are to:
Work together to prevent and reduce crime and anti-social behaviour in Sandwell's neighbourhoods
Prevent violence and exploitation
Reduce offending, reoffending and serious organised crime
Protect and support vulnerable victims
The Safer Sandwell Partnership has put 'tasking' at the centre of its efforts. This involves organisations working together in the six towns and at a borough-wide level to tackle issues quickly and properly, before they escalate into bigger problems and so the solutions last.
The partnership also has specific groups working on serious organised crime and preventing violence and exploitation, which includes modern slavery, human trafficking, domestic abuse and the exploitation of young people into criminal behaviour. Councillor Maria Crompton said:
"It's absolutely vital that everyone works together to ensure people are protected and to make sure they feel safe too. I look forward to us building on what are already strong links between organisations in Sandwell to do everything we possibly can with the resources we have available.
"Because crime and anti-social behaviour is a concern for local people and their safety is always our number one priority."
You can visit sandwell.gov.uk/safersandwell for more information on the partnership and sandwell.gov.uk/safer6 for details of this autumn's Safer 6 campaign.