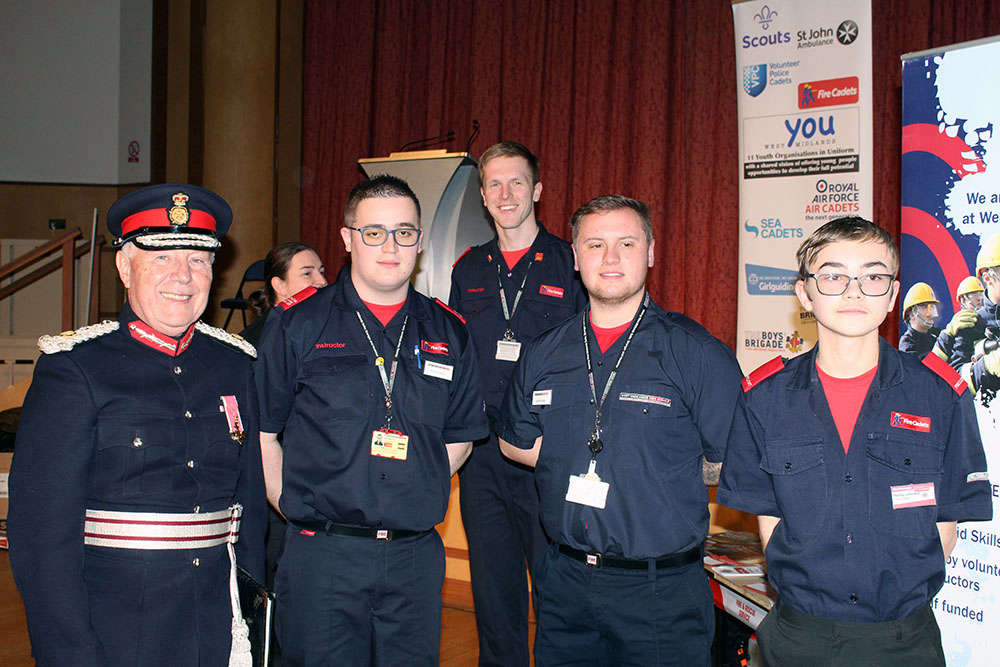 A new initiative that is anticipated to have a huge, positive impact on young people in the Black Country, has been unveiled at Dudley College of Technology.
YOU WM (Young Organisations in Uniform West Midlands) is a collaboration of eleven youth charities who will share resources, contacts, facilities, strategies, and information to make the most of their pooled resources and enable the organisations to work more effectively in the future.
The initiative was launched by the Lord-Lieutenant of the West Midlands, John Crabtree OBE, before an audience of young people, community leaders and representatives of the eleven organisations which include the Army Cadet Force, Boys' Brigade and Girls' Association, Combined Cadet Force and the Sea Cadets.
YOU WM will also promote strong advocacy to ensure that community leaders are fully aware of the excellent work and contribution of the organisations. George Marsh, MBE TD DL, Lead Deputy Lieutenant for YOU WM - who has helped initiate the project - said:
"Youth organisations play a major part in supporting young people learn skills, build their confidence and become active citizens. The combined sharing of resources and data will have an enormous benefit.
"It will enable more activities, coordination and encourage these organisations to work together and hold events so the young people make more connections and have more opportunities."
Diana Crabtree, County President of the West Midlands St John Ambulance and one of the eleven organisations involved added; "This is a brilliant idea, and I am so thankful that we have the funding and commitment from everyone to make this work.
"Sharing these resources will make a huge difference and allow us to do so much more. For example, using each other's facilities, helping to recruit more young people and adult volunteers, as well as holding events where the young people can meet each other and learn skills, is so important and will help us stretch the budgets we have."
The Black Country launch was the first of three to roll out across the West Midlands region. The project was first launched in London and has been a success with the West Midlands keen to launch afterwards.
The launch event at Dudley included an inspirational talk by Dave Heeley from West Bromwich - the first blind person in the world to have completed the ultimate endurance challenge of seven marathons in seven days on seven continents - as well as a chance to see what young people gain from young organisations in uniform.
Also speaking was Rebecca Edwards, a volunteer for St John Ambulance. She said: "Volunteering as a young person within St John Ambulance has been life changing.
"As a cadet volunteer, I have been fully supported, allowing me to flourish by developing new skills, gaining invaluable experiences, taking part in projects and making new friends along the way," said Rebecca.
"I take pride in actively supporting my community with life-saving skills and I am keen to tell people about how hard-working, dedicated and resilient our amazing young people are."
YOU WM has secured funding for the first two years that will pay for the centralised database, platform and coordinator and set the project rolling. The West Midlands Lieutenancy will keep a guiding overview of the project, led by George Marsh.